Me, and Rose would like to invite you tosign up for our FREE -that means you con't hae to pay for it - Newsletter Rose and Kate's Canine Companion Newsletter It comes out once a week. You will also receive the link to download "Kate's ESSsential Guide to Longevity" it's for both four-leged companions (dogs) and two-legged companions (people).
About Rose and Kate
Kate Tells Us About Herself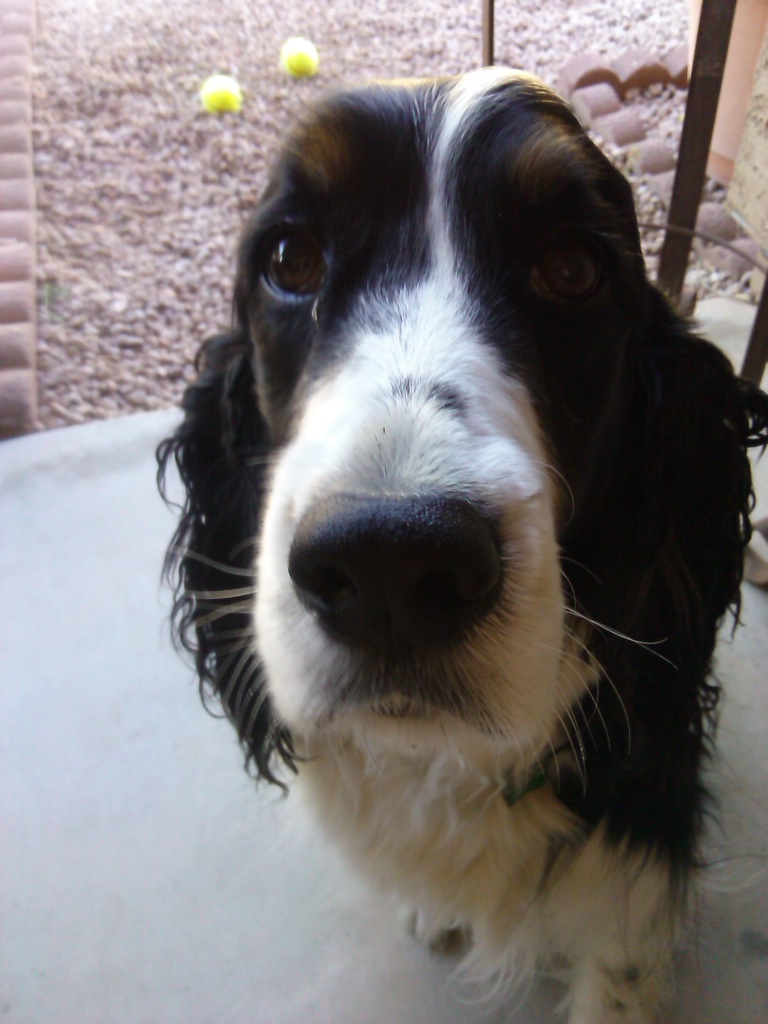 Kate The English Springer Spaniel: I was born in Tombstone, Arizona. Brian and Dee drove all the way from Fountain Hills, Arizona, to get me. I was living with all my brothers and sisters and my mom. I liked Brian and Dee right away but I was kinda scared leaving all my litter mates.

I slept most of the drive home. It took longer because Dee took the wrong turn and ended up in a place called Globe. It took like three hours longer, which is a lot when you're only six weeks old. They stopped the car to let me go potty and they brought water for me to drink. I sat in a basket with a comfy pillow to sleep on.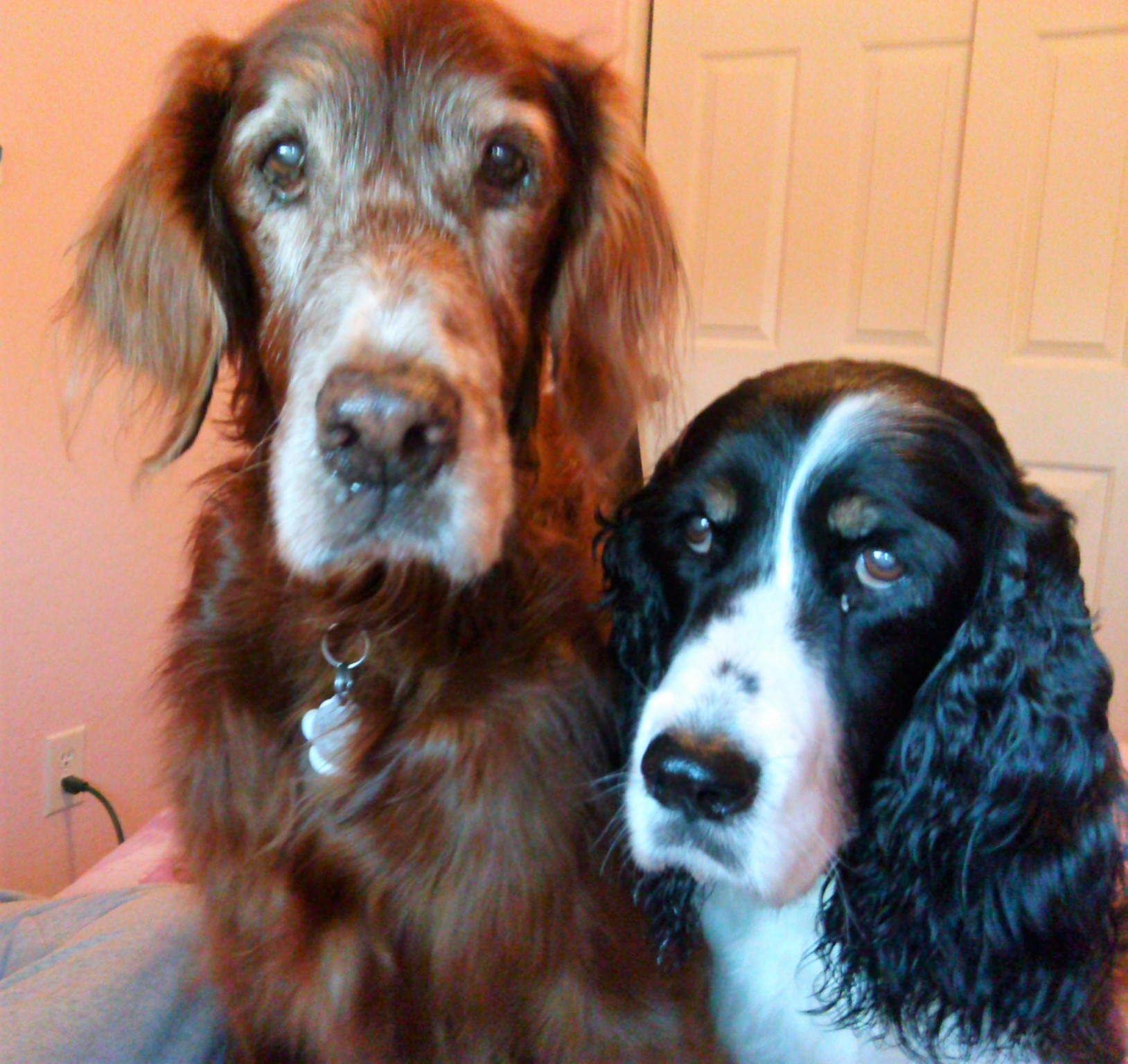 When I got to my new home, there was this big red dog. I mean like really BIG, bigger than my mom, bigger than any dog I'd seen. Well, so ok, I'd only seen my Mom and Dad but this new dog was huge and I was so little. Her name is Rose.

Anyways, Brian asked my breeder for an English springer spaniel that had three colors and was feisty. One that could keep up with a BIG red dog. That was me. So the first time Rose poked her big nose in my face, I growled at her. I wasn't gonna bite her, but I wanted her to know I wasn't afraid — even though I kinda was.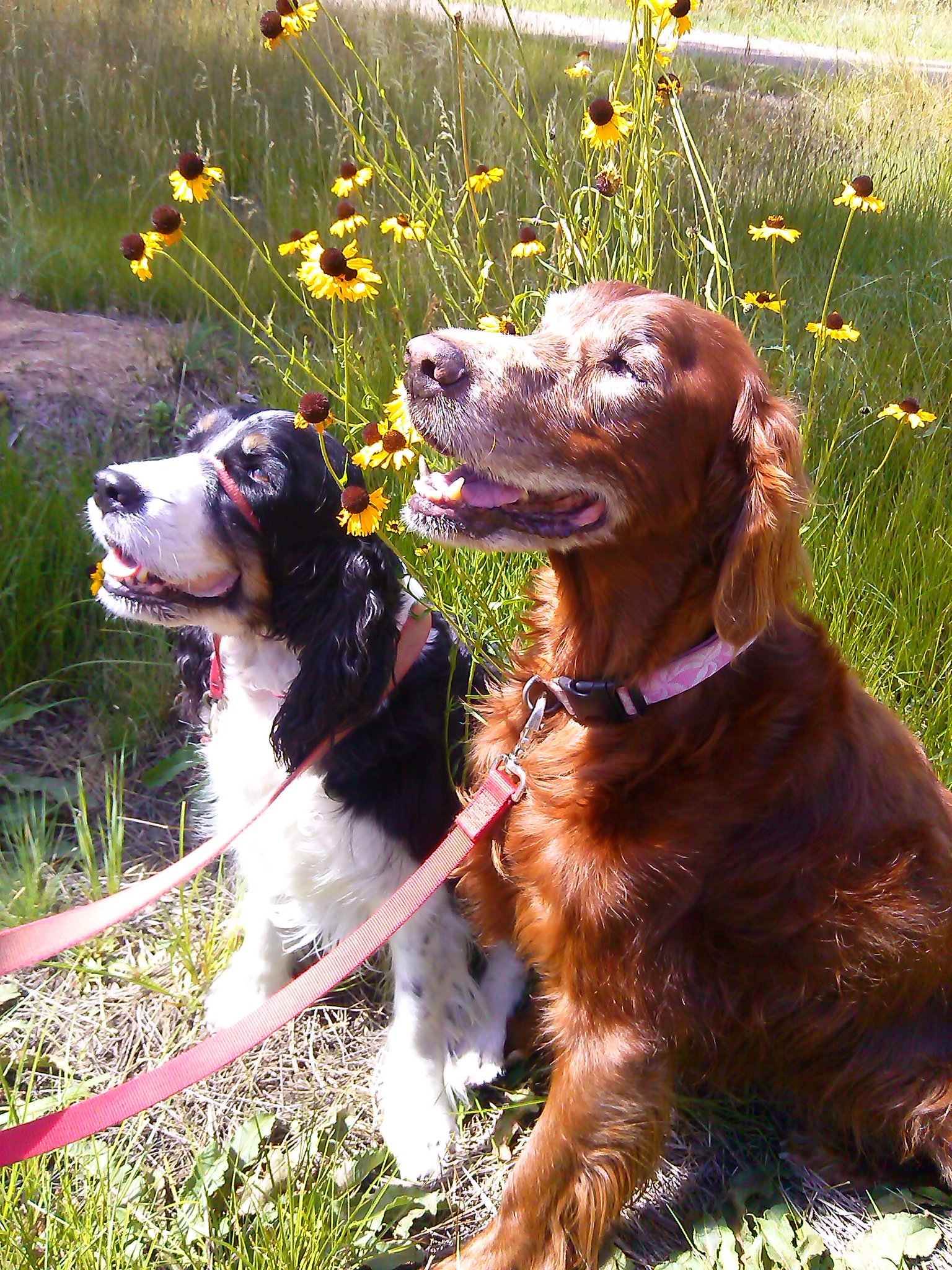 You probably have heard that you should crate your dog when they are young. Well don't believe it. It didn't work for me. I hate crates. The first and second and third night I howled all night. Dee finally got the hint — I don't like crates! So she and Brian made a little bed in the corner of their bedroom. They got some chicken wire and fencing and put it around the bed. I was all comfy, had room to move around, and didn't howl anymore.
Rose and me get along fine now. She's my bestest friend. Unless she tries to steal my food. But that hardly ever happens. I think she likes me, too. For one thing, she lets me snuggle next to her.

Now it's Rose's Turn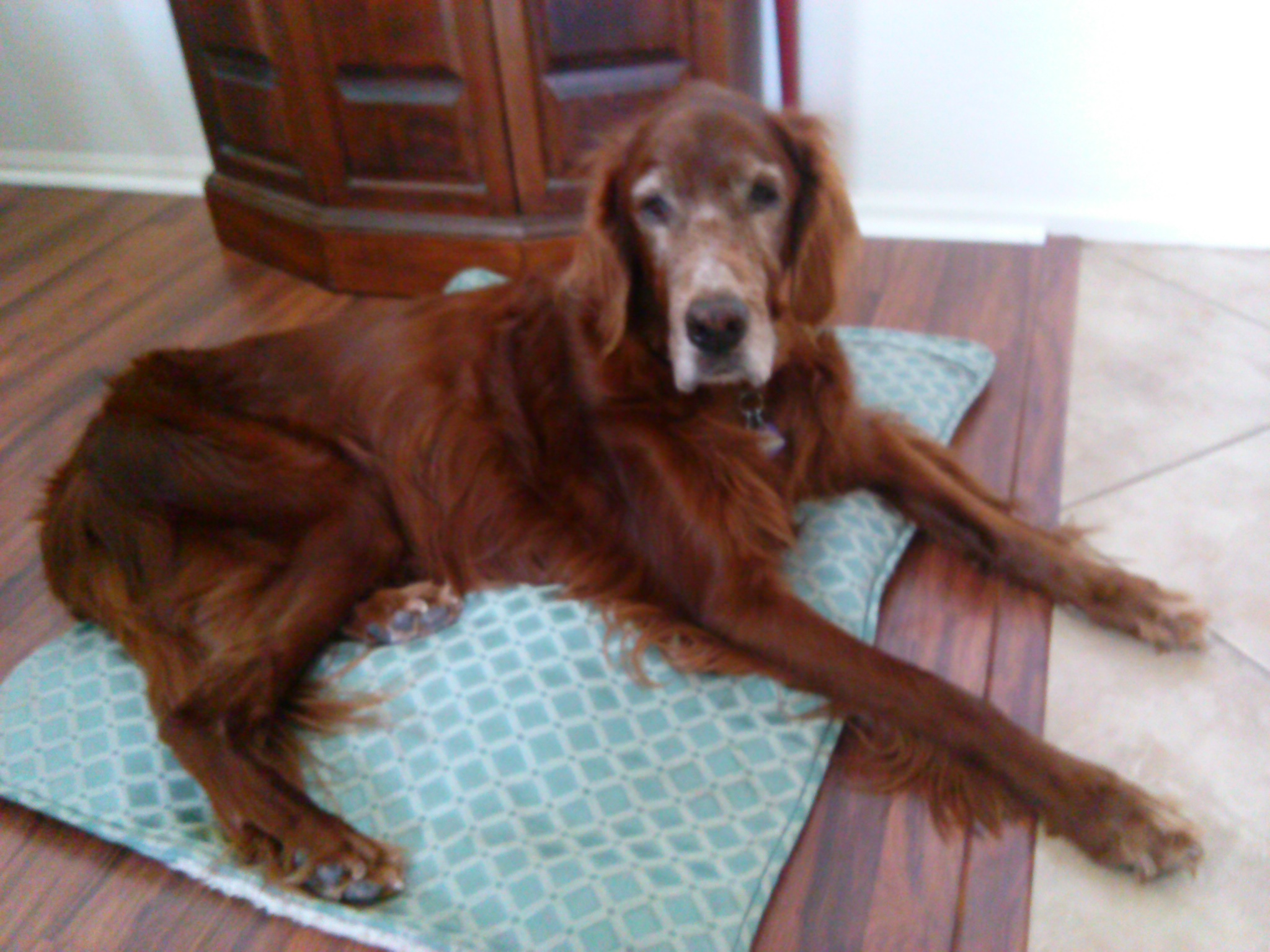 My name is Rose. I'm an Irish setter. We're known for our good looks. I was born in Bakersfield, CA, the birthplace of Marilyn Monroe, another beautiful creature. I live near Scottsdale, AZ. My favorite activities are hiking, swimming, sleeping and stealing food off the kitchen counter.

I'm well known for my friendliness. My two-legged companions Brian and Dee call me "sociable Rose" because I say hello to every person I meet. It's just being practical. You never know who might have dog treats in their pocket.

One thing I don't understand about people is how many of them, when they meet me, say: "I had an Irish Setter when I was a kid." Why don't they have one now? We're not extinct. You can find Irish setter puppies and even some rescue dogs all over the country.

Sometimes people say Irish setters are stubborn, but that's completely wrong. We just see with great clarity what the family members should be doing and make sure they do it. On our walks for example, we know the best direction to take and how fast to go.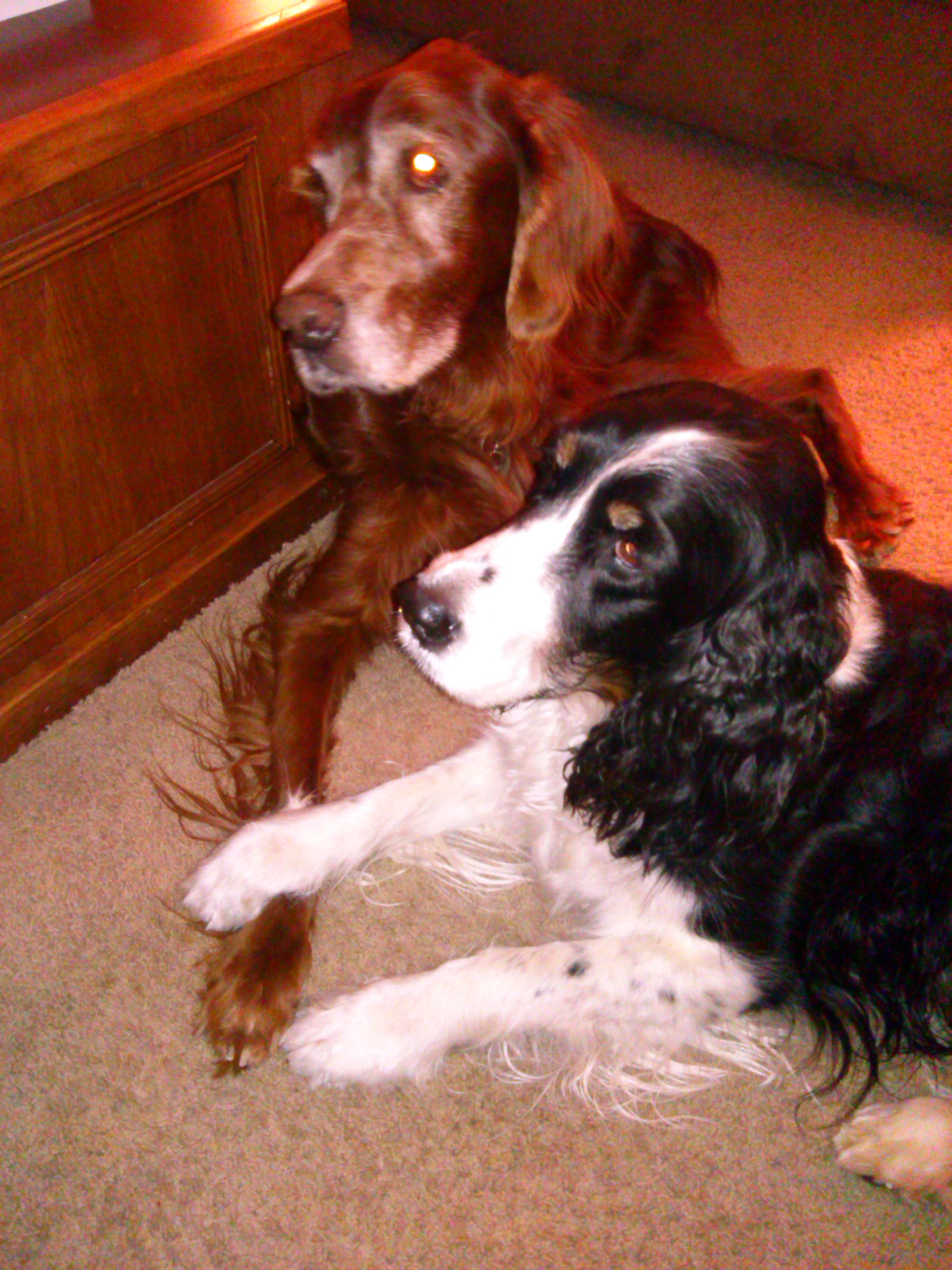 What may surprise you about me is that I love to eat vegetables. Kale, carrots, celery and sweet peppers are my favorites. I think that's why I'm so healthy. But I try to have a balanced diet, working in items such as pizza, scrambled eggs or bagels, when I can convince Brian or Dee to share. Having those sensitive Irish setter eyes is really an advantage. Who could say no to those?

I'm proud that I have participated in the creation of six books, nine screenplays and bazillions of business articles. My participation was sleeping on the couch in Brian or Dee's office while they are writing. All authors need a muse, you see. So, I'm the muse who takes a snooze.

It's not like everything has been perfect, though. I was bitten by a rattlesnake when I was three. I jumped between the snake and Brian when it was about to bite him while he was digging in his garden. Yep, I saved him. And I remind him of this every chance I get, which is why I get premium dog food and the comfiest spot on the sofa. He turned this story into a screenplay, Dog Magic. You'll love it when you see it in the theaters. Don't worry. The heroic and gorgeous Irish setter survives the snake bite. I'm thinking, Academy Award for sure.

Rose and Kate's Guides and Books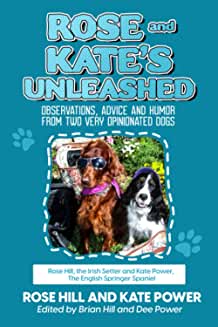 Rose the Irish Setter and Kate the English Springer Spaniel, best friends for more than a decade, discovered several years ago that they had an amazing talent: they can blog. Since then, they have been writing down their observations, experiences and fun times and now they are ready to share them with you in their book, Rose and Kate Unleashed" Edited by Brian Hill and Dee Power.
Rose and Kate's two-legged companions, Brian and Dee, have been on these adventures every step of the way and helped Rose and Kate translate their dog vocabulary so humans will understand. For Kate, for example, "the sucky-uppy thing" is the vacuum cleaner. And the "tappity thing" is the computer keyboard.
Dogs see the world much differently than people do and in this book they open up their world for us to see, with all its excitement and humor and vibrant color. They are special girls who bring joy to everyone they meet through their bright and exuberant personalities. Rose is a bit edgy and vain about her beautiful red looks, Kate is a bit wacky, with an attention span of about 5 seconds. Order Rose and Kate Unleashed from Amazon.

Rose and Kate talk about their new book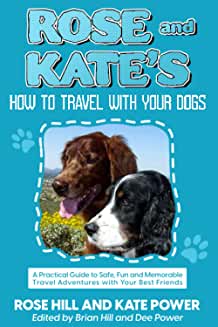 We go almost every place our two legged companions go. We went camping this summer at the lake that was soooo much fun. We stayed in a nice tent that had a picnic table and fireplace and shade. Dee and Brian brought their kitchen stuff with them. Kitchens are a very important part of a camping 'cause that's where our two legged companions make our breakfast and dinner. We're gonna write a book about camping pretty soon, rigjt after we finish our Rose and Kate's Guide to Healthy Homemade Dog Food

Summer is coming up and that means summer vacations. Do you want to take your dog on vacation with you? Of course you do. So you should get our guide Rose and Kate's Guide How to Travel with Your Dogs
See we've traveled to lots of different places - Stunning beaches, breathtaking mountains, big blue lakes and rushing rivers, majestic National Parks, fine hotels and resorts, cheap hotels, camping trips to the wilderness, restaurants with outdoor patios in big cities and hikes in the rugged desert. We share all our tips and tricks on how you can travel with your dogs just like Brian and Dee travel with us.

Copyright 2023 Brian Hill and Dee Power All Rights Reserved